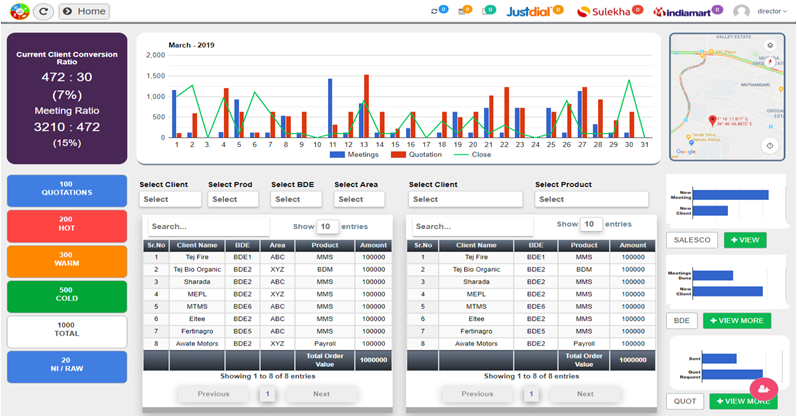 Features
Secuar Login
Lead Management
Appointment tracking
Quotation Tracking
Mobile Application
Social Media Integration
Grapical Reports
Role-Based User Access
BDM Smart System-Perfect Solution to grow your business upto 70%...!!!!!
BDM Smart System is a brilliant analyst and one of the few members we trust. It represents you what you are thinking to have from Business Development Team.These analytics helps to improve customer reletion by finding small communcation gaps which can be solved, it is bridge to get connected with every customer time to time. Also it always takes care of every customer and converts them into precious clients for you and doesn't letting you to miss any opportunity. BDM Smart supports business or organizational decision-making activities. Also always helps to achieve the goal to turn a leads into Opportunity. BDM Smart keeps track of customers' history with a company to improve business relationships with customers. It is muster station/junction for the data through different communication channels, including a company's website, telephone, and different social medias.BDM Smart Focuses on easing the overall marketing process and makes it more effective and efficient. BDM Smart System is egger to be your associate to develop and implement your business growth opportunities. would you like to have a tour of it......????
BDM Smart works with...
CEO
Director/s
BDM ( Business Development Manager)
Quotation Maker
Sales Co-Ordinator
BDE ( Business Developmet Executive)