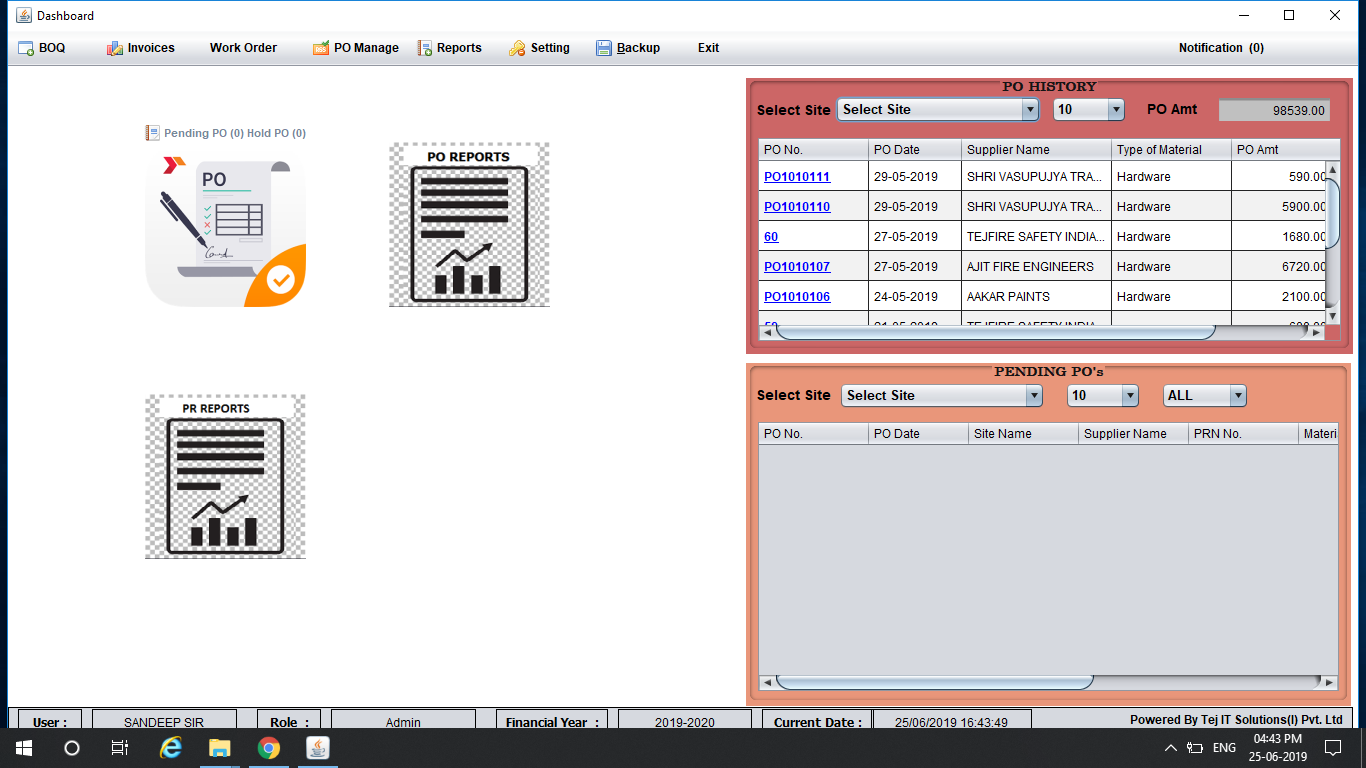 Material Management Software
Tej Material Management Software comes with amazing features that help manufacturing, engineering, non-trading organizations, and service contractors manage their materials and equipment efficiently and get instant approval for projects.
Best Material Management Software
Material management is a business-critical process that helps in planning, organizing, and controlling the flow of the materials right from the initial stage to final delivery of the finished goods or services to the customers. When it comes to inventory and money, there needs to be a zero tolerance towards mismanagement of the material. This is possible only with the best material management software developed by TejITSolutions with a focus on enabling service contractors, manufacturing and engineering units, and other non-trading organizations manage material, equipment, and projects efficiently.
Tej Material Management Software Features
Manage Multiple Sites
If there is more than one project going on, you would need to transfer material from one site to another depending on the demand of the material. Tej Material Management Software is built with innovative features that help enterprise businesses with transfer management. With the use of the software features, you can track material, its movement from one site to another, and also facilitate the entire transfer process. You can eliminate confusion among your workforce and enhance their efforts. So now manage multiple sites with this best material management software.
Purchase Order Management
Production schedules and delivery of services are decided on the basis of the purchase orders received. So it's essential to ensure the availability of every single part of the material, no matter how big or small, to ensure the production and delivery of services are carried out as per scheduled. That's where purchase order management is important. Now control production, material, and services with the best material management software from TejITSolutions.
Supplier Management
Suppliers are the backbone of any business. Without the raw material, no goods or services can be provided to the customers. By integrating this best material management software into your business, you can leverage the power of Supplier Management Software Systems. We have added the features in our software that can help you keep a track of vendors and do business with only those suppliers listed in the system. No matter how many suppliers you deal with, you will never experience any types of complexities.
Sourcing Management
Currently, ours is the best material management software in the market. You will seldom find the sourcing management feature in any other software like the one we are offering. If your business needs to procure material from different businesses or individuals, you can easily find, locate, and examine suppliers using this software, which is equipped with features to assist you in finding reliable, affordable, and quality suppliers for your business needs.
Requisitions & Approvals
Let's take an example of an electrical contractor for easy understanding of the Tej Material Management Software capability. When you send your site engineer to the site to assess material requirements, he can fill a requisition form with details about the quantity of wires, switches, and other electrical accessories required for the project, and submit it to the purchase department. The purchase department will prepare the purchase order along with a proforma invoice and sent it to the suppliers. If the purchase order is approved, the other party can even attach its digital signature. This will eliminate any confusion between you and the suppliers.
Inventory management
The cross platform functionality of the Tej Material Management Software will help you access your files from any location. You can do it online or through your servers in the office. You can share and allow access to selected items/lists. With this software, centralizing your warehouse functions is a breeze. Checking the stock levels, specification of materials, and purchase history, handling stock inquiries, and automating stock-our reports are all convenient and take no time. You can build demand forecast and plan for inventory replenishment as well.
Enquiry Management
With the enquiry management features integrated in the Tej Material Material Software, you can reduce the complexities of managing excess leads or enquiries. Now rest assured that there is no way you can miss or overlook any prospects for your business. By investing a meager amount in this software, you can make a huge difference in the profitability of your business.
Invoice Processing
Every enterprise business has to refer to purchase orders for invoicing. To ensure timely cash flow, it is also necessary to present the invoice at the right time and with utmost detail. Tej Material Management Software has the features that can help you prepare quick invoices from an existing quote, sales order, and even set payment reminder. So why wait to use our software when it makes invoicing so simple and help inreases the cash flow.
Reduce Production Cost
Efficient inventory management is critical for manufacturing and trading businesses. With Tej inventory management system, you can centralize inventory system without even adding a dime to your IT cost. Now there is no need to rely on premises applications to view inventory information since our material management software can help you access the information anytime and anywhere. You can track inventory in real-time, faciliate integrate features, link warehouse activities with other departments, improve production planning, and reduce cost of production.
Now don't wait to transform your business, and call TejITsolutions for a free demo of the best inventory management software, and take a step towards streamlining inventory system for your business, cutting and controlling inventory, and increasing profitability options.
Features
Manage Multiple Site
Purchase Order Management
Supplier Management
Sourcing Management
Requisitions & Approvals
Inventory management
Enquiry Management
Invoice Processing
Paytm Follow up
Reduce Production Cost