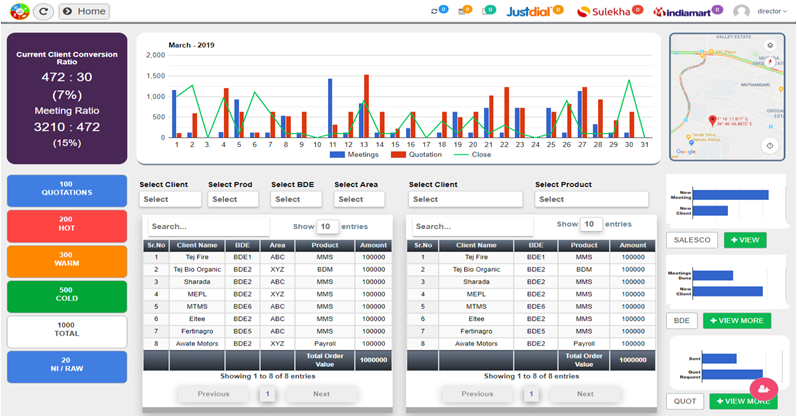 Features
Biometric attendance Leave management
Advance management
PF,ESIC, PT etc calculation
Customized formulae like late mark deduction, fine, paid unpaid leaves
Employee Documents like offer letter, joining letter, experience letter etc...
Android app for employees
Week of and holiday calculation
Streamline Your Payroll Processing
Track time and attendance of employees with the best payroll software from TejITSolutions. We are a leader in developing payroll management software helping many small and large businesses in adopting a single click payroll workflow. You can automate HR and payroll processes to manage your employees, and compliance requirements like a professional.
Get Single Click Workflow For HR, Payroll, and Compliance
Let's accept it. Disbursement of salary takes lots of time. On the top of it, you need to ensure that the salary credited is calculated properly so that employees are neither overpaid nor underpaid. That's why you need the best payroll software that can make the workflow simple and faster. The rich user interface of our software will allow you to integrate employees' salary data with a single click and perform automatic calculations for final payment disbursement.
Features of TejITSolutions' Payroll Software
Biometric Attendance & Leave Management
Handling employees' request for extended leave and calculating the time they are on and away from the work is tricky. There is also a need to show compassion toward employees need. You can manage this vital aspect of employee satisfaction only with the use of best payroll software that is rich with HR and payroll functions. With Tej's Payroll Software, you can track biometric attendance, calculate leaves that need to be paid, and deducted. Our software will also help you in defining types of leaves, categorizing weekly offs for different employees as per their job designation and department, setting rules for advanced leave, and publishing a list of optional and compulsory holidays for employees.
Loans & Advance Management
During their vulnerable times, it's likely that employees may seek loans or advance from you. If you provide this option to your employees, than this best payroll software will help you maintain accurate and current records on loans and advances.
It will do the following for you:
Disburse loans/advances with EMI option
Automate loan recovery in the form of EMI and stop
Auto calculate interest on loans/advances
Create loan ledges with details on loan recovered, loan history, and loan balanced
Facilitate online submission of loan applications
Time & Attendance
Monitoring time and attendance of employees using a roaster is very stressful. There are even chances of errors, or employees manipulating their attendance. We bring you the best payroll software that incorporates HR, and payroll functions to allow you to monitor real-time attendance of your employees. Now create, and control access to employees' attendance data, and auto update it in monthly attendance sheet with no extra time and effort. Plus, calculate weekly offs and holidays for accurate payouts.
Streamline HR processes
If you want to flaunt professionalism and have consistency in HR functions, this best payroll software can help you achieve it. You can create templates for offer letters, joining letters, and experience letters for different job designations and use them for a lifetime.
Android App for Employees
To enhance your employees' satisfaction, provide them an Android app which they can use to view their salary slips, salary statements, Form 16, and other reports of their use. You can also make past data available to them through the app, and other details such as salary hikes, PF, balance leaves, and much more.
TejITsolutions offers the best payroll software to you using which you can manage HR and payroll activities with zero error and compliance requirements.
Get a free demo by shooting an email or making a phone call to us.