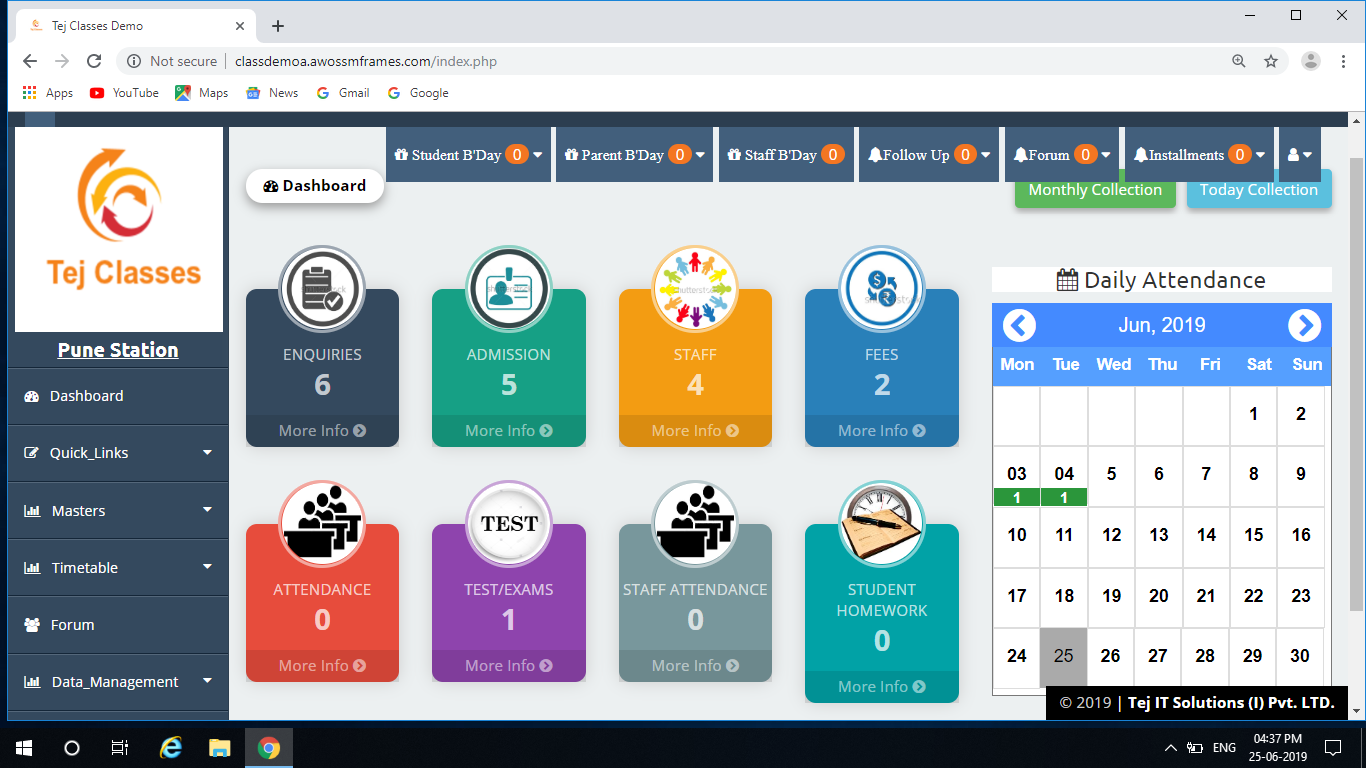 Features
Quick Access to important parameters
Manage Notifications
Quick view of all operations
Manage Multiple Branches
Single Branch Handling
Manage Counsellor, Board Medium, Class, Batch, Subject, Fees, Expenses, Holiday, User-Master, Template
Student Inquiry & Follow-Ups with Notifications
Admissions
Fees/Instalments
ID CARD Generation
Manual Attendance
Biometric Attendance
Absent Remarks
Attendance Reports
Tej Smart Class System with Android Application
Tej Smart Class is the best and compelling Solution to oversee day by day class actions. This product is more client friendly and usable for a tasks like Daily Attendance, Test/Exam Schedule, Fees Collections, subsequent meet-ups and Time-Table, Operational proficiency and effortlessness spare time and increase accuracy. It improves co-appointment between class, guardians and Students. The product is easy to use, menu driven framework which can be worked by any individual who has the absolute minimum information of working a PC.
Stores All Master Data in System … ..
Enter information One Time and utilize Many occasions… ..all through Your application !!!!!
Fast Access to the Important Parameter
Notices of: Follow up, Birthday, Installments
Graphical View of All Operations
Fast and simple Reports.
Clients:
Admin
Teacher
Student/Parents

1) Easy Student Enrollment-

Inquiry, Follow ups, Admission, Payment Receipt, Installment Details, ID card.

2) Daily Class Activity:

Participation framework, Attendance Report, Time Table, Test Exam Marks, Test Exam Report, Monthly Collection Report, Today's Collection Report.

3) Student/Parent Android Application:

View Profile.
Can see subjects, timetable.
View Fees Details, and non fictions sent by administrator.
View participation distinctive shading coding for occasion, Week off, Present, missing.
Students can check his/her Test/Exam execution.
Can discuss straightforwardly with administrator, through gathering.
Homework
Sample Question Paper or Notes.